The "Wesermünde Senior Citizens from Industry" project is a joint initiative of the municipalities of Beverstedt, Hagen im Bremischen, Loxstedt and Schiffdorf that was launched in 2009. Its aim is to strengthen the economic area, currently with a population of around 55,000 residents, and to create new jobs.
The basic idea is to tap into the experience that former managers who live in the region can share in terms of their personal and professional lives, and to benefit from the practical knowledge they can pass on to existing businesses and start-ups.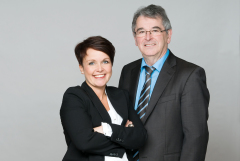 Katja Schulze (Katja Schulze Interior Design) received mentoring from Franz Blum (Wesermünde Senior Citizien from Industry) while starting up her business.
Everything is taken into account and explained - from the business idea to bookkeeping, from tax law to successfully conducting talks. Young entrepreneurs and the founders of new businesses can make use of the know-how that experienced business managers have to offer.
Working as volunteers, Senior Citizens from Industry are highly motivated to pass their invaluable knowledge on to young people, make good use of their retirement, and at the same time do something of value for the region where they live.
With over 60 consultations in five years, the Senior Citizens from Industry can chalk up a notable success story. It is particularly encouraging to see the continually growing number of women who are already in business or now engaged in starting up companies.
Business partnering usually involves mentoring and coaching in pairs. In some cases, many long-standing and trusted relationships between businesspeople and senior citizens have formed, with mentees as well as mentors deriving a great deal of personal benefit.
Contact
Gemeinde Loxstedt
Projekt Wirtschaftssenioren Wesermünde
Ingo Krampitz
Am Wedenberg 10
27612 Loxstedt
Telefon: 04744 48-19
Telefax: 04744 48-55
E-Mail: gemeinde@loxstedt.de


www.wirtschaftssenioren-wem.de